Ella (my eldest, 11yrs old) often cooks dinner on a Sunday night. Last week it was for Mother's Day. On a Sunday night we have time to play in the kitchen, and if I have had a Thermomix demonstration that day, I am very happy for the night off.
The Thermomix is a great tool to teach children to cook. They are able to learn the principles of cooking, without the danger of the hotplates and sharp knives. They still use a knife to chop ingredients into large pieces but they don't have to do the fine chopping which can be a little more difficult to master.
This is Ella's own recipe. It's simple but full of flavour. I love my kids in the kitchen.
CHICKEN WONTONS
Ingredients
Filling
2 spring onions, chopped into 10cm lengths
2 cloves of garlic, peeled
2cm ginger, peeled
A small bunch of coriander
Sesame oil
400g chicken thigh fillets diced into 2cm cubes (partially frozen if possible)
1 packet of wonton wrappers
200g basmati rice
Dipping Sauce
3 tbsp soy sauce/Tamari
1 chili (optional)
Method
Put spring onions, garlic, ginger and coriander into TM bowl and chop Sp8/5secs. Scrape down the sides and add a splash of sesame oil. Saute 2 mins/100'/Sp2.
Add chicken fillets and mince by locking the lid and pressing Turbo for a few seconds. Do this a few times and take a peep through the lid to check consistency.
Place 1 tsp of filling in wonton wrappers and wet the edges. Press four edges up to form a parcel.Oil the base of the Varoma dish and tray and place wontons on top.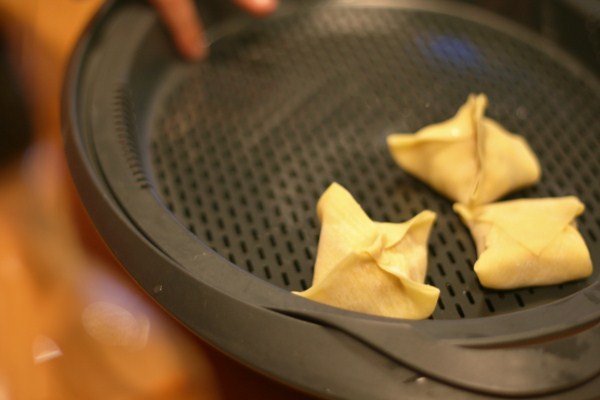 Fill the TM bowl with water to the 1ltr mark, insert rice basket and place rice inside. Place lid and Varoma in place and cook 15mins/Varoma/sp4
Meanwhile finely dice the chili and add to soy sauce and oil for a dipping sauce.
Enjoy!