This was a huge winner at our dinner table last night.  Inspired by the Chinese-Style Stir-Fry and and Asian-Style Fish Fillets in the Everyday Cookbook.
With the simple flavours of garlic and ginger,  this is a super tasty dish.  What's more, its a nice, easy recipe that requires about ten minutes in the kitchen and then sixteen minutes to cook.  Who loves their Thermomix!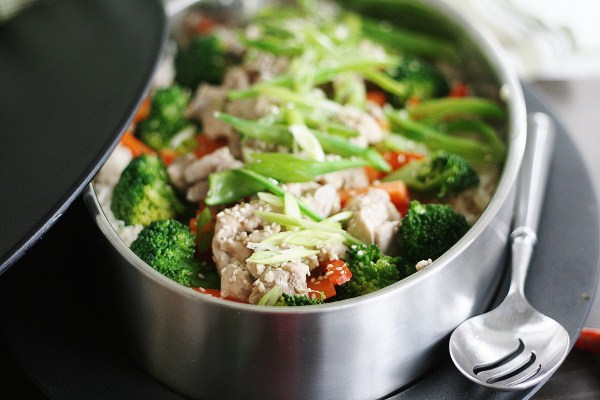 CHICKEN WITH GINGER AND GARLIC
Ingredients
2 cloves of garlic 2cm slice of ginger
2 tbsp vegetable oil
1 tbsp soy sauce/tamari
500g chicken thigh fillets – cubed into 2 cm pieces
1 tbsp Sesame seeds and spring onions for garnish
Selection of vegetables for steaming – sliced finely
Basmati rice – up to 400g
1 ltr water
Method
Place oil into TM bowl and heat for 2 min/Varoma/Sp1.
Add garlic and ginger and saute and chop for 2 min/Sp4.
Add chicken pieces and soy sauce and sesame seeds.  Saute for 2 min/Varoma/Reverse+soft stir
Transfer chicken and sauce to Varoma bowl.  Place veges on Varoma tray.
Don't wash the bowl, add water to the TM bowl.  Place rice into the basket and position in bowl.  Place Varoma fill up to 1 ltr mark on the bowl with water and fit rice basket in place.
Place Varoma into position the cook for 16 min/Varoma/Sp4.
Remove rice and vegetables and check that chicken is cooked.  Cook for another 1 -2 minutes if needed.
Garnish with sliced spring onions and more sesame seeds
Notes:
I added some sliced snow peas into the vegetables in the last minute of cooking.
You could add chili to the ginger and garlic
Would also work well with stir fry beef strips
Quantities can all be increased to feel a larger crowd.