Follow my blog with Bloglovin
If you were to peek into our weekly fruit and vegetable box from my Organic Co-op lately, it would seem that beetroots were in season!  Which is just as well because as a Thermomix consultant, the famous beetroot salad is on most of my demonstration menus.
But even with my Thermomix demos and our weekly vegetable roast-up, last weeks delivery left me with more to spare.  Hence, this delicious, dairy-free beetroot dip was created.  Most beetroot dips contain yoghurt or feta to add an element of creaminess.  This dairy-free, paleo version uses cashews to break up the robust flavours of the beetroot and just like the beetroot salad, coriander and mint give it just the right amount of punch.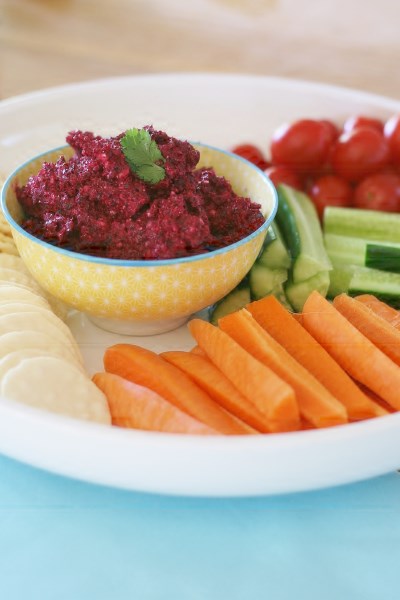 Roasting beetroots is a simple task.  Make the most a hot oven next time you are cooking and throw in a beetroot or two.  They can go in when you are baking the muffins and cakes for lunchboxes, or doing your favourite roast.  Simply take the tail off the whole beetroot, scrub the skin and wrap in foil.  Place on a spare shelf in a moderate to hot oven, 180′ – 200′.  I usually roast for around 20-30mins, or until they are soft all the way through. The skins are easy to rub off when the beetroots have cooled a little.  Place in a covered container in the fridge until needed or, alternatively you can puree and freeze into ice cubes for adding to smoothies, brownies or a more natural type of red velvet cupcakes.
It is with two small roasted beetroots that we begin this recipe!

Roasted Beetroot Dip - Dairy Free
Author:
Tamara Morris - My Melbourne Thermo
Ingredients
1 clove garlic
2 small or 1 large roasted beetroot - peeled
80g cashews - roasted gives more flavour
Juice of 1 lemon
2 tbps fresh coriander
2 tbsp fresh mint
50ml olive oil
A good pinch of salt
Instructions
Place all ingredients into TM bowl and pulse with the Turbo function several times until the desired consistency.
Scrape down the bowl and add more oil if needed.
Serve with plentiful vegetable sticks and dry crackers if desired.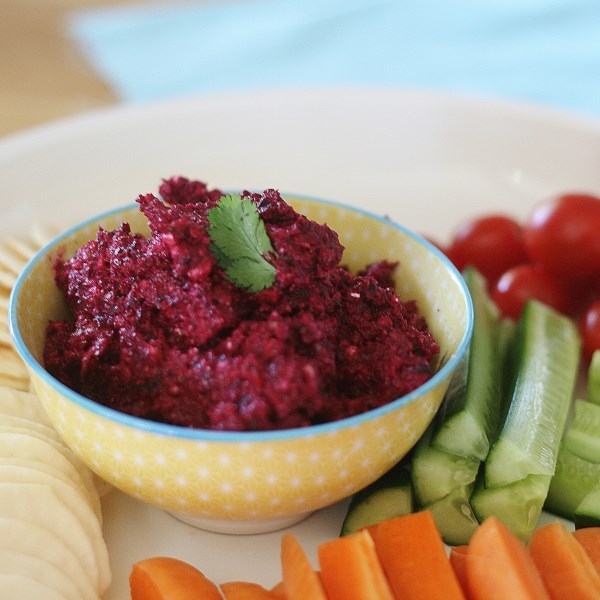 Serve with a colourful selection of vegetables crudites and/or some crackers.  A perfect, healthy, appetizer for the entertaining season!