Last week I helped out at special cooking class run in conjuction with Cyndi O'Meara and Thermomix.
I first saw Cyndi on a cooking show when my eldest was just a baby (eleven years ago now!). She was so inspirational that I ran out and bought her book straight away, so many of her principles appealed to me. Cyndi's book Changing Habits – Changing Lives is all about including as many nutrients into your diet through a varied diet and eating foods in their most natural state; unhomogenised milk, varying your intake of grains, using high quality salts and rapadura sugar etc. Sometimes that goes against the advice that conventional health professionals give; cholesterol reducing margarine, low sodium, low fat diets.
Whilst I have been aware of Cyndi's principles, sometimes I can get a bit lazy. Her class was the perfect motivator, reminding me of all that I found exciting about her cooking.
This great salad was made at the class. It is developed by Janine Babouski, a Thermomix consultant. We had it for dinner and yummy left overs for lunch. I have halved the recipe as it makes a huge quantity but if you are serving a large crowd, a double quantity is perfect. The dressing is beautiful, though if you are serving to children I suggest you serve it on the side.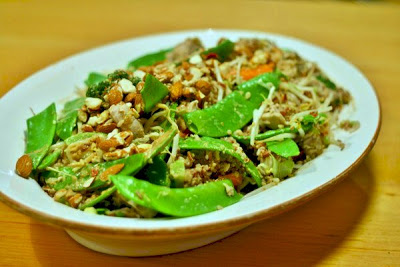 Szechuan Chicken & Red Rice Salad with Sesame Dressing
Ingredients
150g Chinese Red/brown Rice, pre-soaked for 2 hours or overnight
50g red Quinoa, pre-soaked
700g water
300g chicken thigh fillets
60g snowpeas (I also added other vegetables such as carrot and broccoli)
1 cup of bean shoots
1 medium cucumber, diced
6 spring onions slivered
cherry tomatoes for decoration
DRESSING
60g almonds or other nuts of choice
5 Szechuan peppercorns (optional)
pinch salt
1 knob ginger
2 cloves garlic
1 chillies, de-seeded
20ml toasted sesame oil
30ml tamari
20ml rice vinegar
Juice of 1 lime
2 tbsp tahini
1 tsp sugar
Method
Add nuts to TM bowl, chop for 2 seconds, reverse, speed 5. Set aside.
Add peppercorns and salt, mill for 10 seconds, speed 9. Add ginger, garlic and chili to bowl and chop for 4 seconds, speed 7. Add sesame oil, tamari, rice vinegar, tahini, lime juice, salt and sugar and mix for 10 seconds, speed 4-5. Set aside
Add water to TM bowl, insert steamer basket with drained rice and quinoa. Add chicken to the Varoma dish, steam for 25 minutes, Varoma, speed 3. Add snow peas and bean shoots for the last 2 minutes.
Remove rice and quinoa and place into a mixing bowl ready for dressing. Place chicken and snow peas onto a plate.
Empty water from TM Bowl; add chicken and 3 tablespoons of dressing. Shred chicken reverse, speed 4, for 3 to 4 seconds.
Add remaining dressing to the rice and quinoa and gently fold through.
Place the rice/quinoa mixture onto a serving platter and top with the chicken, sprouts, cucumber, snow peas and tomatoes. Scatter with spring onions and nuts, decorate with a diagonally sliced chilli and serve.