We all scream for Ice Cream in this house. Yes sir!  And it doesn't get much better than homemade icecream.  Last summer I borrowed an ice cream machine from my brother.  The idea of making my own dairy creations sounded so good, and it was.  But making the creme anglaise, that was not my favourite part.  I seemed to curdle every batch and all the hassle of simmering the milk, whipping the yolk, etcetera….. Then came my Thermomix and the creme anglaise became a piece of cake!
Now I simply make a double batch of the recipe in the Eveyday Cookbook (EDC) cookbook on page 150.  (Place all the ingredients into the TM bowl and cook 8 minutes at 80′ on speed 4).  It doesn't get easier than that!
This is the point at which I do deviate from the recipe though.  Before my homemade version decked our freezer I would only buy vanilla.  Vanilla is universal and I couldn't bear the thought of a beautiful spiced rhubarb dessert with choc chip ice cream, no way.
Now, I freeze my mixture into several shallow containers. I pull these out as I need them and flavour them accordingly.  I often freeze ice cube sized portions of flavours such as espresso coffee, strawberry syrup in little plastic bags.  Just ready to make up whatever flavour takes my fancy.  At any one time we might have raspberry, coffee and hazelnut and vanilla in our freezer.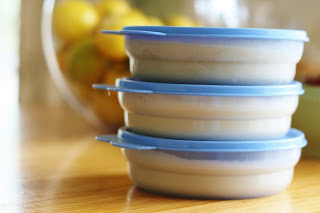 A few hours (or more) before serving I get one container out and let it soften just enough to run the knife around the edge.  I flip it onto a chopping board and slice into ice cube sizes.  Place these in the TM bowl and 'whip' for 30 seconds or so on speed 4.  This is the aerating process that usually takes place in an ice cream maker.  It prevents the ice cream from being too icy.  I then add my flavourings  some are fine to add and continue blending, some simply need to be folded in and place back in the container to refreeze.  It usually needs a couple of hours.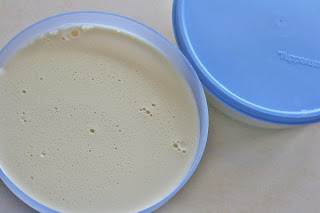 Here are some flavour options.  Really, you are only limited by your imagination.
Hazelnut and coffee – espresso ice cubes (defrosted but cold) with roasted hazelnuts
Berry Beautiful – frozen raspberries or strawberries or a syrup (page 158 ECD)
Sweet and Salty – salted maple caramel syrup with peanuts (recipe here)
Cookies and Cream – a packet of chocolate biscuits  like Oreos
Mint chocolate – two peppermint crisp bars
Rocky Road – marshmallows and choc chips
P.S. LOW FAT/DAIRY FREE OPTION
I will often actually make a more everyday ice cream for the kids from only milk (no cream)  I just use double the milk quantity and add an extra egg to give it thickness.
Also, for Edward's dairy free version, I simply make this option with rice milk.  It is a lot icier than the dairy version, but he is happy. And I am happy with the quality of the ingredients.  Have you read the ingredients in dairy- free ice cream, yeek!