Roasted Beetroot Dip - Dairy Free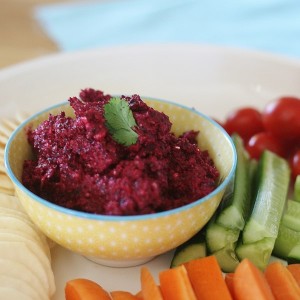 Author:
Tamara Morris - My Melbourne Thermo
1 clove garlic
2 small or 1 large roasted beetroot - peeled
80g cashews - roasted gives more flavour
Juice of 1 lemon
2 tbps fresh coriander
2 tbsp fresh mint
50ml olive oil
A good pinch of salt
Place all ingredients into TM bowl and pulse with the Turbo function several times until the desired consistency.
Scrape down the bowl and add more oil if needed.
Serve with plentiful vegetable sticks and dry crackers if desired.
Recipe by
My Melbourne Thermo
at http://mymelbournethermo.com.au/paleo-beetroot-dip/