Silverbeet and Potato Torte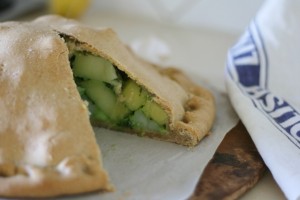 Author:
Tamara Morris - My Melbourne Thermo
Pastry
200 g plain flour (I use wholemeal spelt)
½ tsp sale
30g extra virgin olive oil
125 cup cold water
Filling
150 g young silverbeet or rainbow chard - washed, stems and leaves separated
salt
300g potatoes - cut into cubes
Extra virgin olive oil
1 finely chopped onion
handful of parsley
150 g mozzarella/cheddar (either pre-grated or cut into pieces)
slice of feta
freshly ground pepper
1 large egg - lightly whisked
Pastry
Weigh all of the ingredients into the TM bowl and mix for 5secs/sp6.
Set dial to closed lid position and knead 10-20/Interval speed to form dough.
Turn mixture onto Thermomat or lightly floured board and knead lightly to bring together.
Wrap in plastic and place in fridge..
Filling
Add 500ml of water to TM bowl and place potatoes in rice basket to steam 12mins/Varoma/Sp 4
or until tender. Pull basket out and empty water.
Place cheese into TM bowl and grate 5-10secs/Sp8. Set aside.
Preheat oven to 200'
Place onion, stems, parsley into TM bowl and chop Sp5/5secs.
Add a splash of oil and saute 2mins/100/Sp 2.
Add silverbeet and chop 5secs/sp4 - use the spatula to stir so that all of the silverbeet gets chopped.
Add potatoes, crumbled feta, cheese and whisked egg into bowl and stir 5secs/Reverse/Sp2.
Whilst filling is sauteing, roll out ⅔ of pastry into a circle larger than the pan you will cook in on (I use my pizza stone covered with Gladbake)
Place the pastry on the pan and pile the potato mixture onto pastry, leaving a border around the pastry.
Roll out the remaining pastry in a circle to fit on top. Fold extra pastry from base to seal edges and press together.
Pierce top with a fork.
Bake for 20-30 minutes until golden brown.
For a dairy free option for my son, I make him his own little pie without the cheese. If you wish to eliminate the cheese from the whole pie you can add an extra egg to make it creamier
Recipe by
My Melbourne Thermo
at http://mymelbournethermo.com.au/silverbeet-and-potato-torte/