Feeling under the weather?  Bursting with nutrients, this juice is perfect pick me up.  I am always bounding with energy after I have had a glass of this.
Take about 2cm piece of fresh ginger, a bunch of mint and parsley.  Place in TM bowl and chop 5 seconds on speed 10.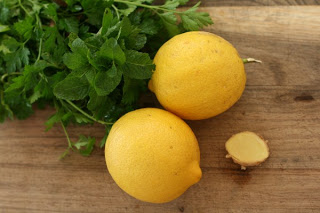 Peel 1 lemon and 1 orange, cut into quarters and place into TM bowl along with a handful of frozen blueberries, leftover sorbet or an MC of pineapple juice. Blend for 1 minute on speed 10.  Whilst the TM is still blending slowly pour water onto the lid (so it seeps through between the MC and lid) until desired consistency.