When you purchase a Thermomix in March you receive the beautiful cookbook Travelling with Thermomix FREE.  There are lots of beautiful recipes in the book including this rather decadent Chocolate Tart (they call it a pie but I think its more of a tart).  Its a rich but very simple dessert to make.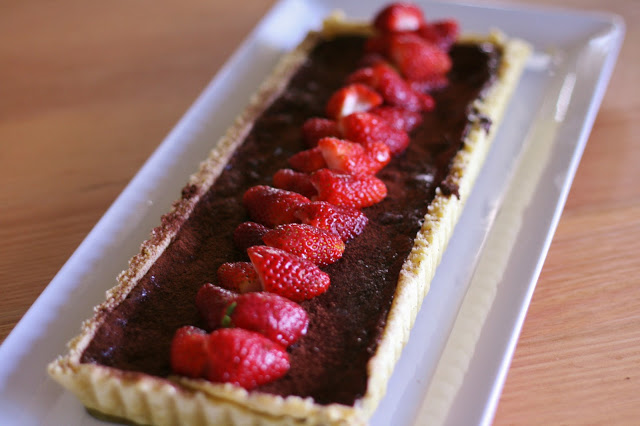 Crust
25g hazelnuts
80g butter
50g sugar
1 egg
180g flour
Topping
200g good quality dark chocolate (cut into pieces)
150g cream
2 egg yolks
50g sugar
1. Place nuts into TM bowl and mill 10sec/speed 9
2. Add other crust ingredients and knead 30 sec/speed 5 to form dough.  Remove from bowl and cover with wrap and rest 30 minutes.  Preheat oven to 180′
3. Roll the dough into a circle to fit tart dish (approx. 26cm). Place in dish and prick with fork.
Blind bake
 for 15 minutes on 180'C.
4.  Place chocolate into TM bowl and grate 6 secs/speed 8.
5. Add cream, melt 6 min/90'/speed 2.
6. Add egg yolks and sugar, mix 1 minute/speed 3. Pour into pre-baked pastry. Bake at 120'C for 30-35 minutes.  Cool before serving.