Are you entertaining this long weekend?  Then this is your dish!
It was well loved favourite of mine before Mr T arrived in our kitchen. Now that I've converted the recipe to the Thermomix, it's even better.
The quantities below make a double batch as it is a wonderful dish to freeze.  Having a serve in the freezer means that inviting friends over at the last minute is never a stress. It's also a prepare-ahead meal (the morning or day before) which gives it another tick on my list for entertaining.
Whilst the chicken is baking in the oven I usually steam some rice and green beans.  When served with the famous Thermomix Beetroot Salad or even my
Winter Salad
it makes a delicious, healthy dinner.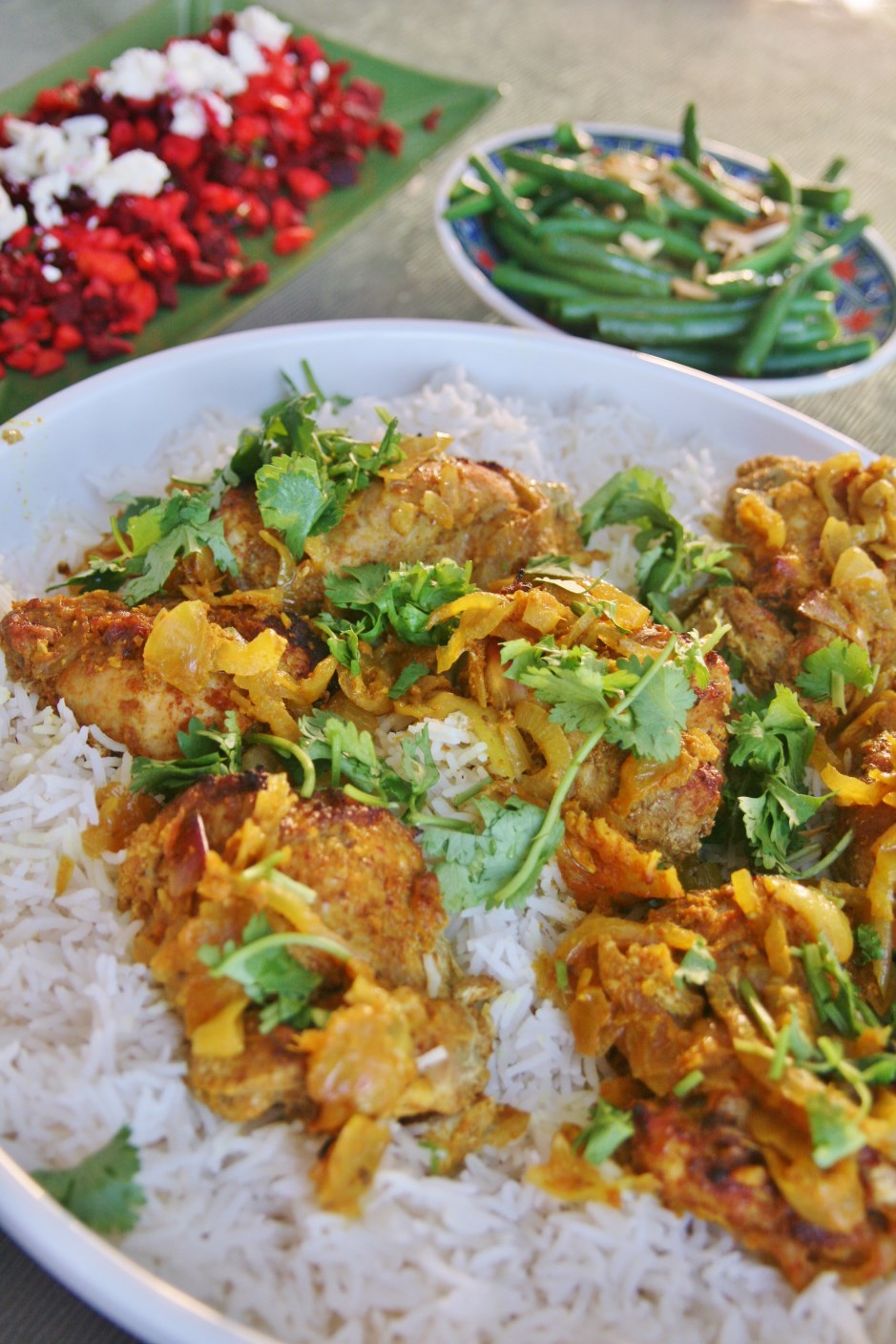 Baked Chicken with Lemon and Harissa
Author:
Tamara Morris - My Melbourne Thermo
Ingredients
4 tbs cumin seeds
4 tbs coriander seeds
1 cinnamon quill
1 tsp cloves
3 lemons
2cm piece of fresh ginger - washed
2cm piece of fresh turmeric - washed (or 3tsp dried)
6 garlic cloves - peeled
3 onions - peeled and quartered
200ml extra virgin olive oil
2 tsp sugar (optional)
1 tbs harissa paste
2 tbs tomato paste
1.5 tsp smoked paprika
16 chicken thigh fillets/chicken pieces
Fresh, chopped coriander to garnish
Serve with beetroot salad, rocket leaves and feta, steamed rice and green beans, yoghurt and mint leaves
Instructions
Place cumin, coriander, cloves and cinnamon stick into TM bowl. Dry roast 4 mins, Varoma, Sp2. MC off. Allow to cool, then grind Sp 8, 6 secs
Peel lemons with a peeler, add peel, ginger, turmeric, garlic to the bowl and chop Sp6, 10 secs.
Add onions and chop roughly Sp4, 5 secs.
Remove pith from lemon and slice flesh into rounds. Add to TM bowl with oil, sugar, paprika, harissa and tomato paste. Combine Reverse Sp2, 10 secs.
Divide the mixture into two large ziplock bags and place 8 chicken fillets into each bag. Seal and massage the marinade into the chicken. Place one bag in the fridge to marinate and the other in the freezer for another day.
When ready to cook, preheat the oven to 190' and place chicken and marinade into a large baking dish with pieces nicely arranged. Roast 40-45 minutes until cooked through.
Meanwhile prepare your sides: Steam rice in TM and add green beans to the Varoma tray in the last 2 minutes of cooking. Toss beans with olive oil, a sqeeze of lemon and two handfuls of slivered almonds (roasted on a tray in the oven).
To serve, place rice on a platter, arrange chicken pieces on top, pour remaining sauce over the top and garnish with coriander.
Beetroot salad can also be made ahead of time. To serve, arrange on a rectangular platter with rocket leaves underneath. Top with crumbled feta.
Notes and Variations
Chicken can be frozen into smaller serves.
For an easy mid-week meal for one or two, steam single serves of chicken (cut into smaller slices with plenty of marinade) in Glad Bake 'nests' . Cook in Varoma dish with some vegetables in the tray whilst the rice is cooking. Steaming will take around 26 minutes.
If in a rush, use pre-ground spices and add with the with the oil and harissa.
You can make your harissa in the Thermomix. You may want to add another tablespoon if you enjoy a bit of kick to your bite.