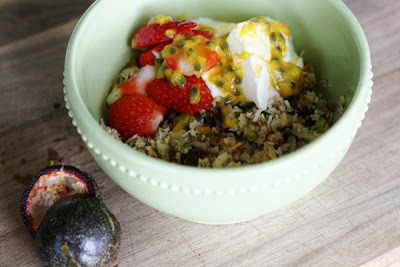 This simple breakfast creation is definitely on my must-try list for customers.  It is one of recipes I love my Thermomix most for :: CADA.
It stands for
Cocount
Almond
Dates
Apple
The recipe is available in the Thermomix Vegetarian cookbook, the Everyday Cookbook and a different version is in the Basic Cookbook and chip.  It is called Fruit and Nut Muesli.
Just toss a handful of the first three ingredients into the TM bowl along with a quartered apple. Pulse at closed lid/turbo 2 or 3 times.
Of course, I don't follow the recipe completely and end up adding a handful or two of any of the following ingredients:
Walnuts
Pepitas
Sunflower seeds
Chia seeds
Oats (especially if giving to my children as it 'fills' out this high energy snack)
Serve with yoghurt and fresh fruit and enjoy for breakfast or snacks. A great afterschool snack on the go.