Beef cheeks!  When was the last time you tried them?  Some call them ox cheeks and they can be an economical cut of meat that, if prepared correctly, will make you look like a superstar in the kitchen.  This recipe is adapted from Grossi Florentino's cookbook; Secrets and Recipes.  The Thermomix makes quick work of the preparation and cooks the accompaniments with minimal effort.  This is how I love to cook!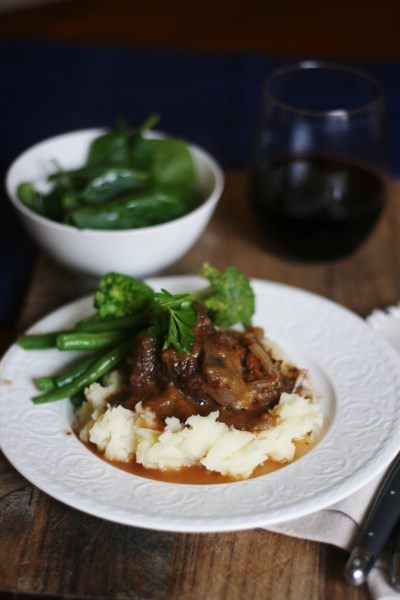 The most important thing to remember when cooking cheeks is that they need time.  The beef cheeks from my local butcher are quite large and I usually cut them into thirds.  This is no easy task!  Even with my beautifully sharp Wustof knife,  I literally have to saw through the meat.  Yet, when cooked for three to four hours they become fall-apart-tender.  All of that toughness melts away, to give an incredibly flavoursome meal.  Two of my kids would probably feel a little squeemish if I called them beef cheeks, so we  simply call it slow cooked Thermomix beef.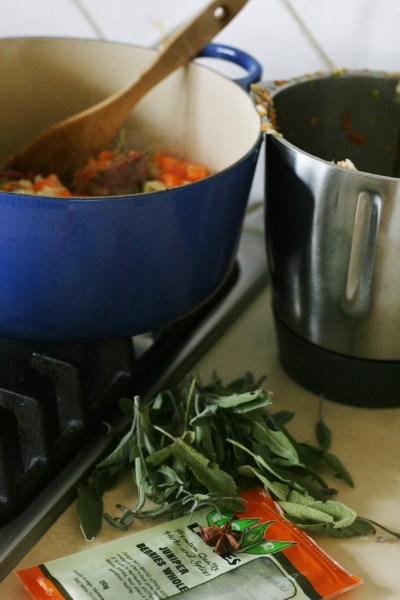 What makes this dish a hero is the robust flavours of sage, juniper berries and star anise and these strong, aromatic seasonings certainly are an indication of the intensity of this cut of meat.  They don't overpower the dish at all!
The accompaniment of a celeriac or parsnip mash add even more oomph.  Simple steamed greens turn this meal into a warming, winter dish that is sure to become a favourite in any Melbourne home, especially given our current weather forecast.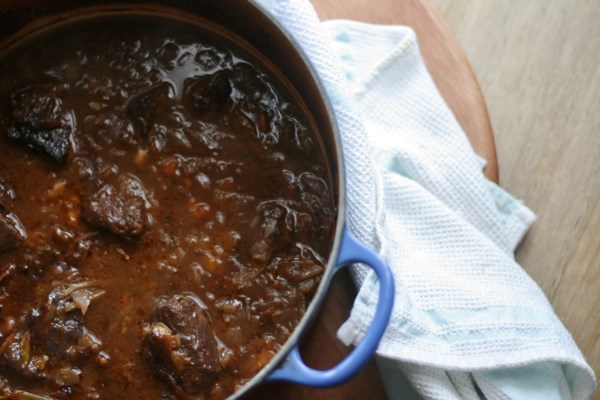 Beef Cheeks - a Grossi Florentino Recipe
Author:
Tamara Morris - My Melbourne Thermo
Ingredients
2 cloves garlic, peeled
1tbsp juniper berries
1 star anise
4 peppercorns
¼ cup fresh sage
2 onions, peeled and halved
2 carrots, chopped into thirds
2 stalks of celery
Olive oil
700-1kg beef cheeks
2 tbsp tomato paste
2 tbsp stock concentrate
750ml of wine/water (I use 250ml wine, 500ml water)
250g potato, peeled and cubed
300g celeriac/parsnip, peeled and cubed
An assortment of greens to steam; beans, broccolini or asparagus for steaming.
1 tbsp butter
Seasoning
Instructions
Preheat the oven to 180'C. Cut cheeks into single serving sizes, approx. 10 cm wide.
Place garlic, star anise, juniper berries, peppercorns and sage into TM bowl and grind 5secs/sp8.
Add onion, carrot and celery into the TM bowl and chop 4secs/sp4. Add oil and saute 5mins/Varoma/sp1.
Meanwhile, heat oil in a flameproof baking dish over a medium heat. Add the meat and seal each side until dark.
Add onion, carrot and celery mixture from TM bowl, tomato paste and stock concentrate to the dish and cook for a few more minutes.
Add water and wine. Bring to a slow simmer and cover.
Place in oven and bake for 3-4 hours.
When close to serving time, prepare celeriac or parsnip and potato and place into steaming basket.
Fill the TM bowl with 900ml water and insert steaming basket.
Cook 20mins/Varoma/Sp4.
Prepare greens to be steamed and arrange in Varoma dish.
Put the Varoma dish in place in the last 6 minutes of cooking.
Ensure the vegetables are all cooked.
Set Varoma aside (you can place this on top of Thermoserver).
Empty the TM bowl and add the potato and celeriac/parsnip to the bowl with a good dollop of butter and season with salt and pepper. Puree for 10 secs, Sp5 for a chunky mash or insert butterfly and blend 10secs/Sp3 for a smooth mash.
To serve, place some puree onto a plate. Place a piece a cheek on top and spoon over the sauce. Serve with greens to accompany.