OK, so I have given you my basic cake recipe. Of course, I also have a basic biscuit recipe.
Since becoming a Thermomix consultant and handing over so many Thermomixes to so many wonderful people I have realised this: Life is made up of two types of people: recipe followers and non-recipe followers. I am definitely not a recipe follower! I like to read cookbooks and get the gist of the meal and then go into my kitchen to cook it. Occasionally I will follow recipes, especially when it comes to baking. But really, I like to learn my basic recipes and adapt them from there.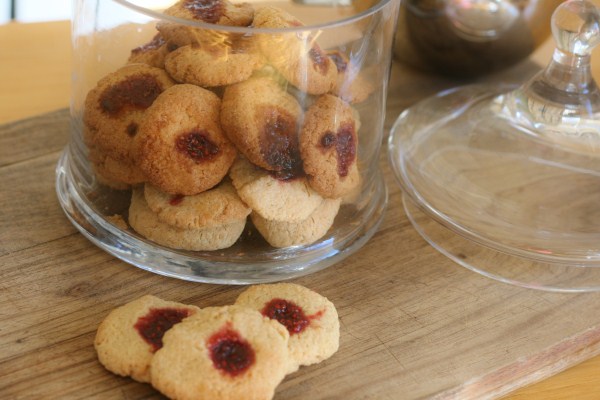 BASIC BISCUITS
180g cubed butter (or Nuttelex if making dairy free)
1 cup of sugar
2 cups of flour
1/2 tsp baking powder
1 egg
Preheat oven to 180′
Place sugar in TM bowl and mill for 10 secs, Sp 10.
Add the butter and cream 30secs, Sp 6. Towards the end add the egg.
Scrape down the bowl and add the flour and baking powder. Combine ingredients for 30 secs on Interval speed.
Empty the mixture onto your Thermomat or the bench and shape into biscuits. I get my kids to do this. Roll and flatten biscuits onto trays covered with baking paper and bake for 10-12 minutes until golden.
Variations:
Jam drops – Flatten biscuits out and put a little dent in the top. Fill with a small amount of jam
Lemon/orange – grind the peel of a lemon or orange when milling the sugar. These dipped half in melted chocolate is lovely.
Choc Chip – add 100g choc chips in the last few minutes of kneading, add some walnuts too it that takes your fancy.
Chocolate – add 1 tbsp cocoa with the flour
Double the recipe and freeze a quantity in the freezer. Roll into a sausage and wrap with glad wrap. When ready to use, simply remove slice with a sharp knife and cook for additional 5 minutes.