Who loves chia pudding?
It's quick, healthy, portable, grain free, gluten free, full of protein as well as fibre and most of all delicious.  What's not to love!
You don't really need a Thermomix to prepare most chia pudding recipes, as it's just a matter of combining the ingredients and refrigerating overnight.  The Thermomix comes into play for this recipe though with the deliciously easy caramelised apples.  Chopping and caramelising the apples only takes ten minutes, with no stirring.  For those of you who love apple-flavoured-anything, you will love this recipe.  Of course, the apples cooked this way are delicious on their own or with a scoop of yoghurt, cream or even ice cream!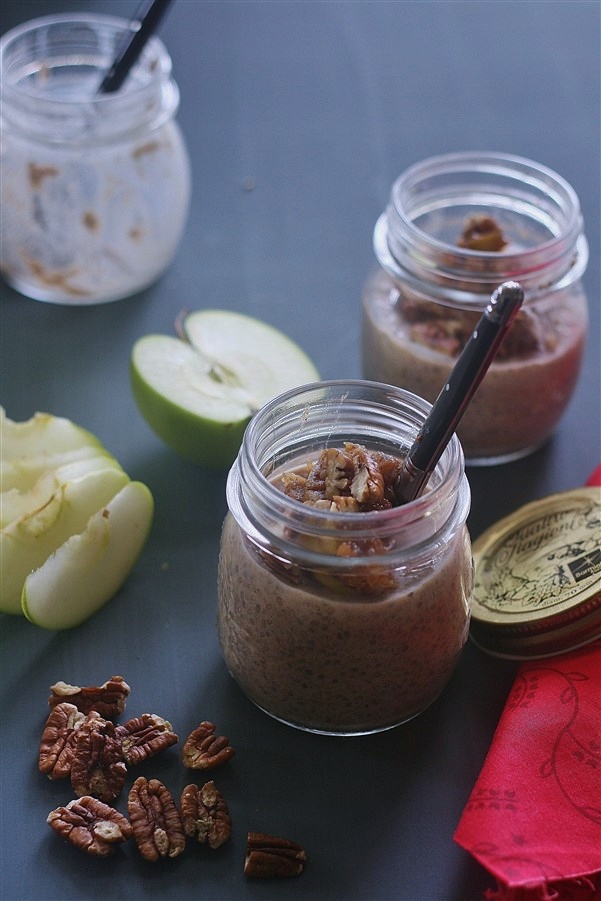 We like to keep our sugar intake low in this house, so we have only used one medjool date, you can use more. For a dairy free option, use the coconut oil (the caramelisation is still fabulous) but for the best flavour, I have to admit that you can't beat butter! The recipe serves two but you can easily double the quantity.  Also, if you like your pudding a little thicker, then reduce the milk content by up to 60g.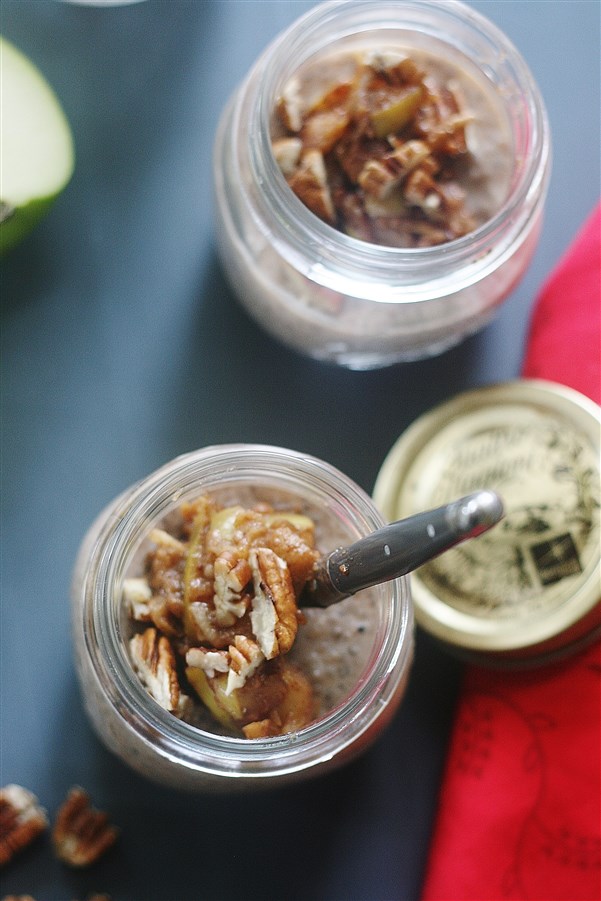 Apple Pie Chia Pudding
Author:
Tamara Morris - My Melbourne Thermo
Ingredients
1 date, pitted
2 apples, halved (peeled and cored if desired)
30g coconut oil or butter
1 tsp ground cinnamon
½ tsp ground allspice
60g chia seeds
500g milk; almond or coconut
handful of pecan nuts
Instructions
Place date into TM bowl and chop 5secs/Sp7.
Scrape down sides and add apples. Chop 5secs/Sp4
Add butter or oil and spices. Cook 10mins/Varoma or 120'/Reverse/Speed soft
Remove ⅓ of mixture from the TM bowl and put into a covered bowl.
Add chia and milk to TM bowl and mix 5secs/Sp3. Place into a large bowl or individual jars.
Refrigerate both apple mixture and chia mixture overnight.
In the morning, chop pecans and place with apples on top of chia pudding. Enjoy!